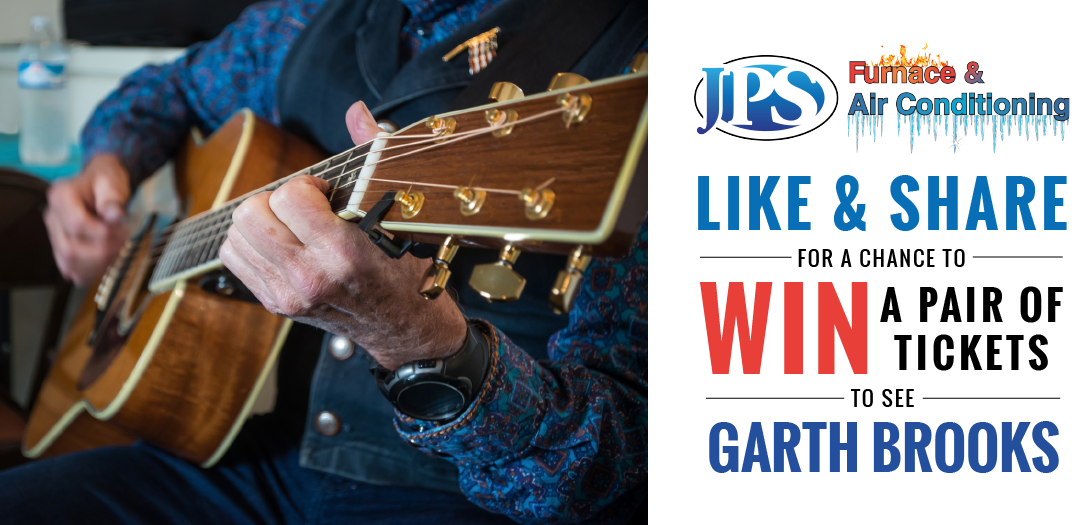 Enter our Social Media Contest for Your Chance to WIN Garth Brooks Tickets!
Everyone loves Garth Brooks—how could you not? With his long list of sing-along hits, his down to earth personality and genuine love for his fans, he's still one of the most popular country music artists out there.
On Friday, September 1st, Garth Brooks is coming to Calgary, and JPS Furnace & Air Conditioning wants to give away a pair of tickets to one our lucky followers!
Want to Enter?
There are 4 ways to enter for your chance to WIN Garth Brooks Tickets!
Rate us on Google
Click this link to rate us on Google for a chance to win the tickets.
FACEBOOK
LIKE our page and SHARE the Garth Brooks post to your own wall to spread the word about our contest and to introduce your friends to JPS Furnace & Air Conditioning.
Twitter
Reply to us @JPSFurnace and tell us what your favourite Garth Brooks song is. Don't forget to use the hashtag #JPSGarthTix.
Instagram
LIKE our Garth Brooks contest post on Instagram and leave a comment telling us your favourite Garth Brook's song.
You can enter once through each method—so that's 4 chances to win Garth Brooks tickets!
Keep in mind, the contest closes on August 28th, so enter today!
When you LIKE JPS Furnace & Air Conditioning's Facebook page, you're not only entering to win our new contest—you'll be receiving helpful tips, news and information specific to homeowners in Calgary and Chestermere.
JPS Furnace & Air Conditioning has been providing high-quality heating and cooling service in Calgary and Chestermere for over a decade. Our friendly, professional team is always ready to provide cooling service, air conditioning repair or anything else your home comfort systems may need.
Click here for complete contest rules and regulations.
Questions? Contact us today, we're always more than happy to help!