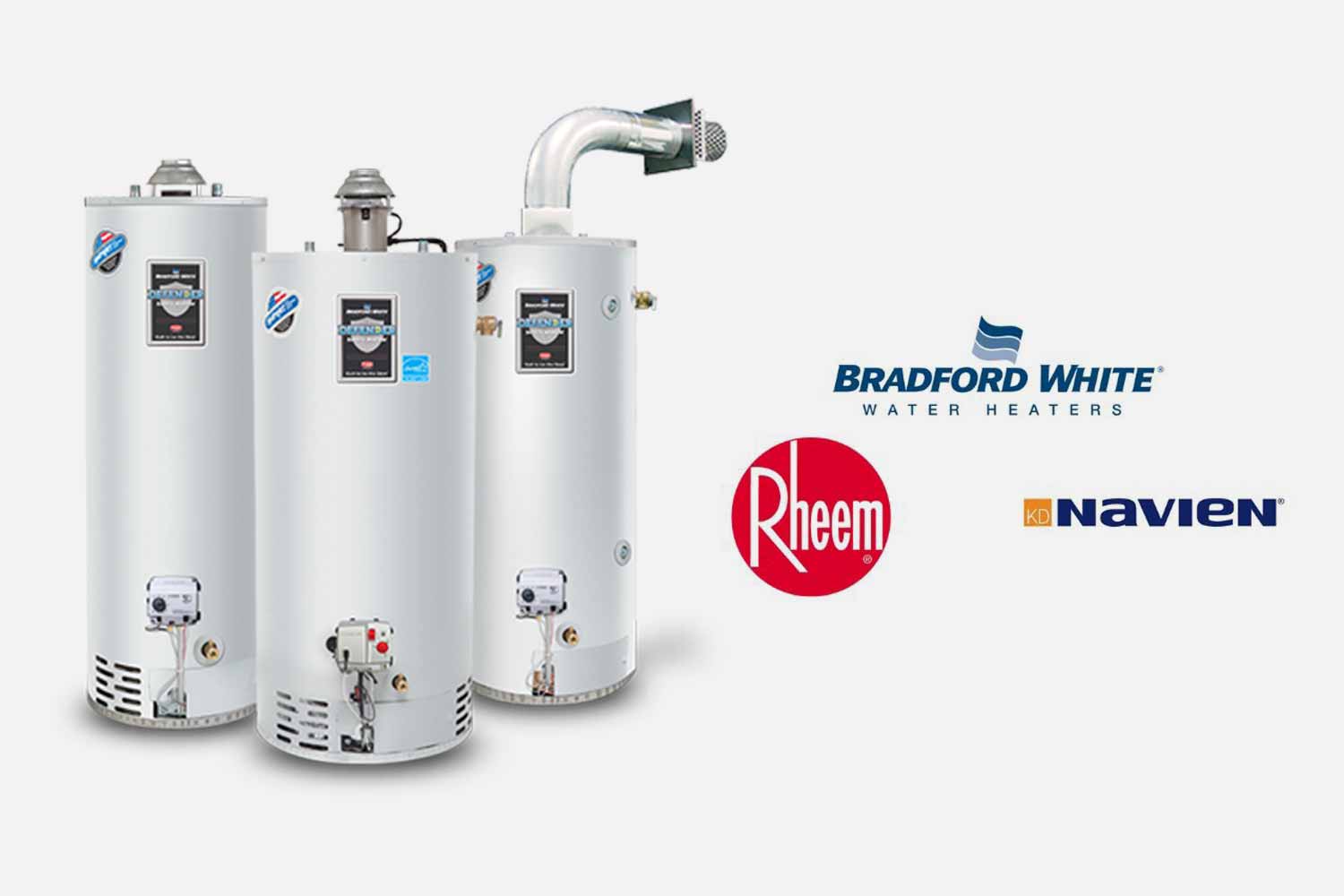 How Much Does A Hot Water Tank Cost In Calgary?
Hot water tanks are one of those things you forget you need until your hot shower turns icy cold.
In Calgary, especially in the winter, your hot water is equally important as the heat in your home.
Hot water tanks simply don't last forever and over time they start to break down and eventually either start leaking or simply stop working.
So if your hot water tank is starting to show its age or maybe it's already kicked the bucket you may ask the question…
What Is The Cost of a Hot Water Tank in Calgary?
Now as you may find out as you research different plumbing and HVAC companies, is that each has its own price range and products.
If you are buying a tank and installing it yourself you will definitely see prices much different than hiring a professional company.
A DIY could be under $1000 but it could have some unforeseen complications if you are unfamiliar with the process. We recommend hiring a professional local HVAC or Plumbing company.
What worries most homeowners is that prices can vary greatly, and it's hard to know what price you should be paying for a new hot water tank. Not to mention, the more you look online and shop around it becomes even harder to trust what each company says.
This is completely normal as there are many factors that can influence what the final hot water heater cost is for you.
Average Cost Of Hot Water Tanks in Calgary?
The average cost for a hot water tank is going to depend on many factors. From our experience here in Calgary, if you are using a professional company you may see an average range somewhere between $2,400 and $3,500+ on most hot water tanks.
Here are some other supporting documents that may help out.
Yellowpages.ca estimates:
The cost of replacing a water heater in Canada can range from $105 to $8,300, with the average cost being $1,466.
If you are interested you can check out our Hot Water Tanks in Calgary or you can check out our other articles:
Costs Of A New AC in Calgary & Cost Of A New Furnace Calgary
What Factors Change The Price of Hot Water Tanks?
Seeing the difference in prices simply begs the next question.
Why?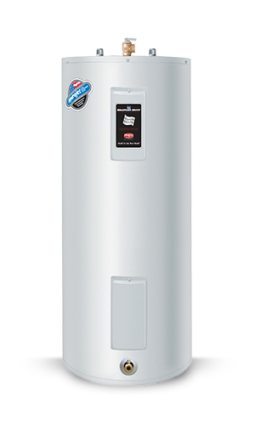 There are many different reasons that these prices can vary so much.  We will outline some of the most important factors.
The Type of Hot Water Tank (There are a few different types)
The Brands Used
Warranty
The Size of The Tank
The Company Installing It
Is Installation Included?
The Type of Hot Water Tank
Not all hot water tanks are the same. There are a few different types and it can change the price you may pay.
Natural Draft Hot Water Tanks.
These are typically the most affordable and usually are the $2,400-$3,600 range.
This is a traditional hot water heater with a draft hood. Basically a cone over top of the hot water heater that collects the exhaust gas because of convection.
In this situation, it relies on the natural air pressure inside of your home to push the gas out. There are no fans or anything on the tank and typically no electrical work to be done.
As the gas burns up after heating the water it rises upwards and naturally flows out of your home using a vertical pipe like a chimney flue.
Are Natural Draft Hot Water Tanks Dangerous?
Here is where things can get complicated. Natural draft hot water tanks are not necessarily bad, in most cases they are perfectly safe, however, there are some risks with using one.
Since it is relying on convection and the natural air pressure inside of your home to push the gasses out, if you start running hood fans or bathroom fans or having negative pressure inside of the house, there is the possibility that it can cause a backdraft.
This means instead of the harmful gasses being pulled out from the venting above the hot water tank, it is actually being pulled back into the home.
This can become dangerous because these gases contain very dangerous carbon monoxide. Which is another reason why we always recommend having a CO detector inside of the room where you have your furnace and hot water tank.
This is also why it is important to have a qualified HVAC & Plumbing technician as they can measure the air pressure in your home to detect whether or not a natural draft will be safe to use. If you have questions about your hot water tank in Calgary you can see our hot water tank services here.
Power Vent Hot Water Tank (One-Pipe System)
These typically go up in price from a natural draft but are a safer option.
Instead of harmful gases flowing naturally with convection like in a natural draft tank, these gases are pushed out using an electrically powered fan that pulls the air from inside of your home.
This also has benefits because you can move your hot water tank to a different location as the gasses can be pushed outside through horizontal vents instead of a vertical chimney vent.
This makes it nearly impossible for gas to flow backwards into your home. If the fan doesn't work, the gas will not turn on and heat your water, which means no carbon monoxide. Essentially adding an extra level of safety for your family.
Here you may see an increase in the average price in comparison to a natural draft hot water tank, as electrical work will need to be down to power the fan and run the extra pipe outside.
Expect to pay at least $3,000 and up depending on the size of the tank which we will discuss in a bit.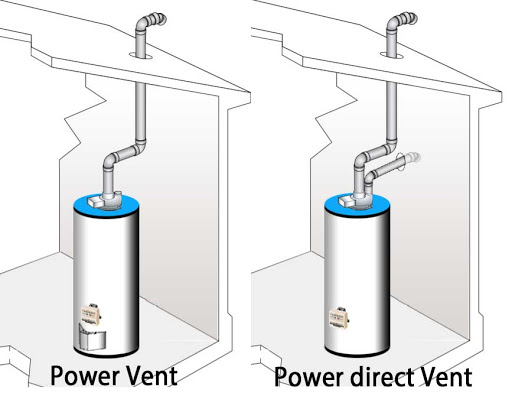 Power Direct Vent Hot Water Tank (Two-Pipe System)
Here is where things start getting pricey and you will see prices easily above $3,000.
This system is nearly the same as the direct vent except it uses an extra pipe from outside to provide combustion air.
Pulling air from one pipe into the home, heating the water with the natural gas, then expelling the excess gas outside through the second pipe. In this case no air in your home is ever used.
In the majority of cases this setup is not needed, as the price of a direct vent (one-pipe system) can achieve the same thing for a more affordable price.
The Brand Used
Each company will offer their choice of hot water tanks for different reasons and just like any competitive industry, some are made far superior than others.
Each brand is known for their own unique way of building their tanks. There are many brands on the market such as Bradford White, Navien, Rheem and a few more all providing a varying difference in quality (efficiency, lifespan), warranty and cost.
Higher efficiency tanks result in less wasted spend on your electricity bills and more savings overall on those extremely cold winter months.
With over a decade operating in Calgary we have seen and repaired a wide variety of brands, in fact in our early days we had used different brands than we do today which brings us to why we choose Bradford White Hot Water Tanks and why you will most likely see this brand across most companies lineups of water heaters.
They have some awesome features including an Extremely Durable Enamel lining and Coating that Protects Against Corrosion as well as their patented Hydrojet® Total Performance System which helps prevent sediment buildup in the tank. This buildup is known to reduce the lifespan of your hot water tank.
They have an excellent warranty and many companies including us here at JPS Furnace & Air Conditioning stand by Bradford White as they are known in the industry as a trustworthy and long-lasting product.
If you want to learn more about our hot water tank replacements here in Calgary and surrounding areas you can see them here.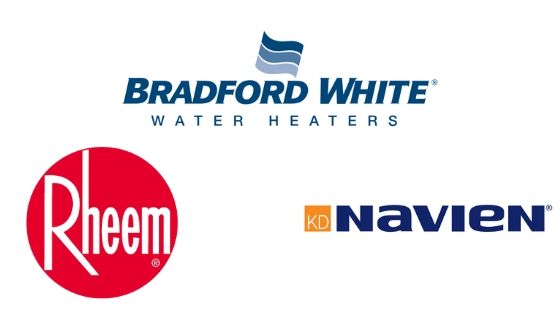 Back to the Cost of Hot Water Tank Replacements In Calgary…
The Size Of The Hot Water Tank
Now, this is going to be pretty self-explanatory. The bigger the hot water tank the more expensive it is going to be. A 70-gallon hot water tank is bigger, requires more energy to heat the water, and is going to cost more than a smaller 40-gallon tank.
Keep in mind everything we spoke about before that can affect price, but here are some guidelines.
What is the Cost of a 40 Gallon Tank?
The average cost of a 40-gallon hot water tank will range roughly around $2,400-$3,200 including installation. Once again this is depending on factors such as brand, warranty, and hot water tank model and the company installing it.
What is the Cost of a 50+ Gallon Tank?
The average cost of a 50+ gallon hot water tank will range around $2,600-$3,800 including installation. Depending on factors such as brand, warranty, and hot water tank model and the company installing it.
The Company Installing It
This is what will most likely have the biggest impact on your price.
Every business is in a different situation, smaller businesses with lower operating costs might provide a more inexpensive option but also may not be able to provide the same level of service and communication as a larger business.
This is the best example of getting what you pay for.
A larger company may have a bit better buying power by getting hot water tanks in bulk but might also include better all-around service, with maintenance etc. This is where reputation matters, and where doing your research on a reputable company can make all the difference.
Hot Water Tank Installation Included?
Installation requires time and if the company is including things like maintenance or other services, that can also cost money.
Many times if you look online you will see a much wider range of pricing on hot water tanks. Sometimes a few hundred dollars cheaper than what you would expect with a professional company.
That is usually because these prices do not include installation or any other benefits that come with using a local company with trained technicians, warranties, maintenance, and timely service etc.
Using an HVAC and plumbing company you can feel confident knowing they can back up their warranty, and be there to come out and fix anything that goes wrong.
They typically deal with the manufacturer for you so you don't have to.
Is the cheaper price worth buying online and installing yourself? Well, that is up to you. If you have previous experience, know the tank size and model, then maybe this is a more affordable option? However, if you are not sure we highly recommend using a trusted company.
This is where having a home comfort advisor provide you with an accurate quote can help. Installing the wrong hot water tank or improper installation in your home can cause many different issues. It's always best to get a quote from a home comfort advisor who can help you assess your home's needs.
What We Recommend When Seeking A New Hot Water Tank
1) Get At 2-3 Hot Water Tank Quotes
Depending on where you live, prices can change year to year and season to season.
We have outlined some rough estimates in the Calgary, Chestermere, Airdrie, Okotoks, and Cochrane areas but these are always changing depending on the products each company uses and other external factors.
You'll notice that most companies will give you a guaranteed time frame on your quote.
This gives you enough time to weigh out your options on different companies, products, and value that each can provide and make a decision which is right for you.
Unlike furnaces or air conditioners that require a home comfort advisor out to your home for an accurate quote, most often hot water tank estimates can be provided over the phone.
2) Do Your Research On The Products Each Company Provides
Before deciding on a company be sure the products they are selling are of equal or greater quality.
The quality of the installation is only as good as the unit that is installed and the same applies to the unit being installed is only as good as the installation.
There are many great companies that may be offering lower quality products. At the end of the day, you want to be sure the products, company, and manufacturers support your needs. Another great reason we work so closely with Bradford White.
3) Look For Reviews On Service
Great products come with great service, right? Not exactly… Having the right experts help advise you and guide you throughout the process is extremely reassuring that everything exceeds your expectations.
Not only does the installation matter but so does the consistent customer service that comes long after the installation.
This is why at JPS Furnace & Air Conditioning we are extremely proud of our reputation and consistently exceeding our customers' expectations. Not only do we support you through your Hot Water Tank Installation but we also offer great warranties and plans to protect your home's furnace and air conditioning units. This helps us maintain our near-perfect 5-star ratings with over 800 amazing reviews across the web and more each day.
Reach out today for your Free Hot Water Tank Quote
4) Ask Around
Another great way to be sure you contact the right companies is to simply ask around. A friend's suggestion is often one of the most trusted opinions you can get.
5) Make Sure You Feel Comfortable The Entire Time and Everything Is Clear.
Being comfortable with the prices, process and people can give you peace of mind.
Making sure that you are completely aware of the entire cost and process helps prevent any hidden costs or additional costs that may not be known right away. Trust your gut and make sure you are ok with everything moving forward.
6) Watch Out For "Starting At" Prices
When getting a quote, be sure that you have a specific cost on paper. Much of the advertising on the market include "starting at costs". These are almost always going to be lower than the actual final cost.
This is why getting quotes is always the best approach to an accurate cost for your home's needs. Low costs typically are lower quality products with little to no warranties.
Have more questions reach out to us today at JPSfurnace.ca