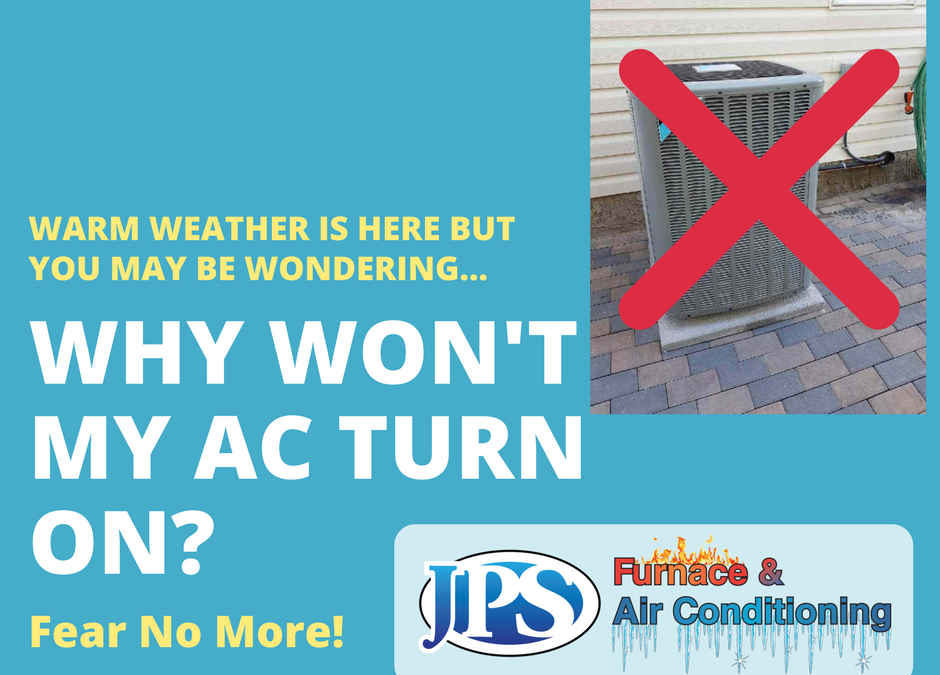 Why Is my Outside AC Unit Not Turning On?
When warm weather hits more and more people start to flip on their air conditioning units and then suddenly… Nothing happens, your ac unit is not turning on Or maybe one day in the summer your ac just turns off and doesn't come back on again.
Sometimes this can be a quick and easy fix and others you may need an AC repair technician to take a look at whats happening under the hood.
First to save the hassle lets look at some very common reasons why your air conditioner isn't turning on.
1) Is Your Thermostat Set To Cool
Now, this may seem like common sense but sometimes it happens to the best of us. Be sure to check your thermostat to be sure you have it on the right settings. This small check can save you a big headache of other tests and ultimately could save you from calling a furnace repair tech.
2) Batteries in Your Thermostat Could Be Dead
It might simply be batteries. Feel free to check and replace them if necessary.
3) Make sure that You Set The Temperature To At Least 5 degrees cooler than the current temperature.
Depending on your AC unit and how everything is currently configured for your home there will be a certain threshold that will need to be surpassed for your Homes Air Conditioner to kick in and turn on again. Lowering the temperature helps you meet that threshold so you can test to see if it turns on. Just be sure that you are setting it for that moment and not accidentally setting up a schedule for your ac unit to turn on.
4) Check the power switch at your furnace
This is a very common mistake and you'll most likely know its the issue if both your furnace and air conditioner are not on. The Fan Motor in your furnace is responsible for blowing both cold air when your air conditioner is on as well as warm air when your furnace is on.
The switch looks exactly like a light switch and is located near your furnace. Be sure it is flipped to the on position and follow steps 1 and 2 again.
If you have tried the above and suddenly you have ac again you're in luck. You just saved yourself an afternoon but if you have tried the simple steps and still nothing… follow below.
Outside Air Conditioner Still Not Turning on?
6) Look for a tripped breaker or blown fuse.
There are many reasons that you could trip a breaker or blow a fuse in your home. If you have had a power surge recently be sure to check your fuse box.
A) Check your main electrical panel
It is typically located in your basement and you'll notice everything but one switch is on.  Ideally, when the Air Conditioner was installed there was a label to tell you which breaker the air conditioner is on. If you notice it off switch it back and listen to hear if your Air Conditioner kicks in.
If it does that's great but it means that there is something greater happening in order to cause this to turn off. This could be overheating, too much power usage or clogged drains etc.
In this case, call your local air conditioner Repair Company.
B) Check the Fuse/Emergency Shut off at the shutoff box
Now you may be wondering. What is the shutoff box? Heres where it can get tricky. Some Air Conditioners have it and some do not. It is typically a grey box located near your air conditioner unit outside.
*At this point, we recommend giving a local air conditioner repair technician a call. It's better to be safe than sorry when checking wires etc especially with each home being unique and the various issues you could be having.
**Disclaimer: If you plan on opening anything up or touching anything be sure to have the power off. These Air Conditioners run on a 220-volt switch which contains a lot of electricity. If there is something more major with your AC unit there could be a risk of shock. This is where having an expert in to take a look is wise. **
If the emergency switch outside is in the off position turn it back on, then turn your power back on and see if your AC kicks in again. If it does that's great but it also means that there is something greater happening in order to cause this to turn off. This could be overheating, too much power usage or clogged drains etc. In this case, call your local AC repair company.
If this wasn't the issues turn your power off and If you feel comfortable check the fuse and see if its blown.
If you have noticed any fuses blown or consistently your breaker is being tripped you may have a bigger issue. Your Air conditioner could be short circuiting, overheating or pulling too much electricity.
Alternative Methods for when AC Unit Doesn't Turn On:
Some Air Conditioners have a reset switch near the outside of the unit. This is always a valid option. Give it a try and see if it kicks back in. The turning it off and turning back is one of the oldest tricks in the book but definitely, give it a try.

JPS Furnace & Air Conditioning | Calgary, Chestermere, Airdrie, Cochrane
If you are in need of assistance rest assured that the team at JPS Furnace & Air Conditioning can help. We offer 24/7 repair technicians no matter the time you are having issues. Learn more at https://jpsfrunace.ca