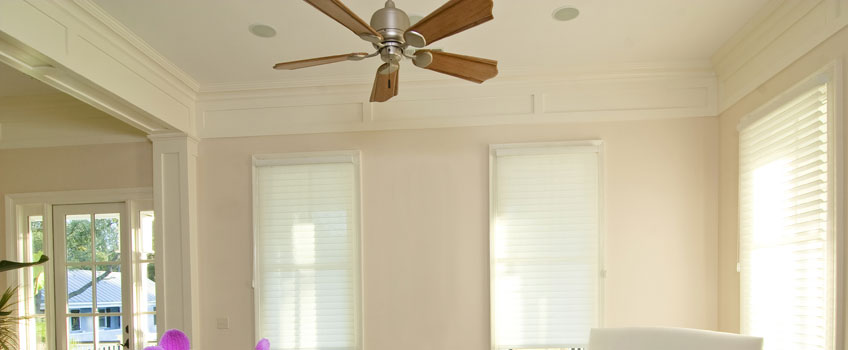 Reminder: Check the Ceiling Fan Direction for the Winter
As you get ready for the cold Calgary and Chestermere winters, take some time to check the ceiling fan direction. This little task can significantly impact your home comfort and help decrease monthly energy bills. Remember, ceiling fans can be used year round as long as they are spinning the right way.
Clockwise in the Winter
Setting your ceiling fan direction clockwise in the winter months will pull cold air up towards the ceiling and push warm air down. When spinning at low speed, the warm air will flow down the sides of the wall — increasing overall comfort while avoiding the wind chill effect. Sometimes this fan configuration is referred to as "reverse."
Counter-clockwise in the Summer
In the warmer months, the ceiling fan direction should be counter-clockwise. In this configuration, air is propelled straight down into the room — creating a wind chill effect that makes the space feel cooler. People refer to this type of ceiling fan direction as "forward."
How to Change the Direction
Before changing the ceiling fan direction, make sure that the fan is off and the blades have completely stopped spinning. Once the power to the fan has been turned off, locate the switch that changes the direction of the fan. Sometimes the switch is found on the body of the fan, while other times the direction can be switched by pulling the appropriate fan chain. Please refer to your specific owner's manual to see where the switch is located.
Changing the direction of your ceiling fan is one way to increase your home comfort during the winter months. Also, make sure to schedule your furnace maintenance before the rush, so that your heating system is ready for that first winter blast.
Book your furnace maintenance appointment today!
JPS Furnace & Air Conditioning is a family business and our uncompromising commitment to our customers' satisfaction has been a foundation for our success and what sets us apart from our competitors.
Connect with us on Facebook, Twitter and Instagram for air conditioning tips, tricks and advice!
Proud to serve the Calgary and Chestermere area.