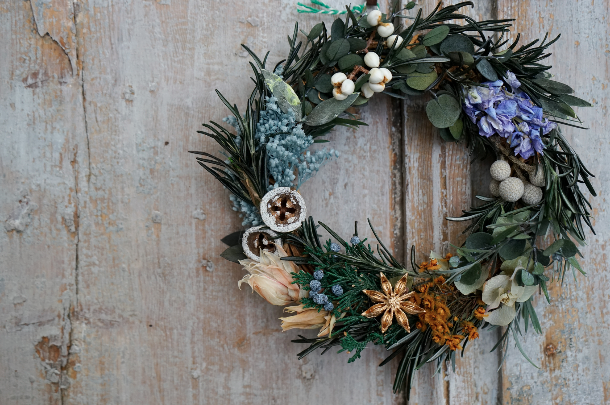 Your Outdoor Christmas Decorating Guide is Here!
Winter has officially arrived and with it comes your favourite time of the year! The holiday season means many long nights of entertaining friends and family, so it's time to get into the spirit and decorate your home to wow them when they arrive. We've outlined some ideas for outdoor Christmas decorating that are as simple as they are magical (we don't only talk about Furnace repair and Air Conditioning service ;-).
Outdoor Lights
Outdoor lights are definitely required! There are a number of different lights to choose from, whether they're bright and colourful or just classic white lights. Arrange your lights wherever you please — your home, trees, bushes, path – and see the magic at night!
Logs 
A neatly displayed pile of logs near your front door adds a sense of authenticity to your home's look. Birch logs look best because of their white bark that suits a cozy Christmas theme.
Scented Candles
There's nothing like the scent of the holiday season to brighten your mood and impart a cozy atmosphere. Don't worry about over-using candles, the more the merrier! Just make sure they're placed in a safe location (and that you can keep an eye on them), like special outdoor candle holders, where they won't cause any accidents.
Lawn Characters & Animals
Get your kids outside to build a snowman, or buy a light-up one! You can also choose from a variety of decorative deer for festive cheer.
Wreaths
A wreath is a classic Christmas decorating idea that adds a final festive touch before your guests are welcomed inside to celebrate. Line your front door with garland, glimmering lights, and red bows to complement the hanging wreath and add the perfect punch of holiday flair.
Ornaments & More
Don't be shy about outfitting the outside of your home with decorations that are classically used indoors. Get creative and hang those decorative baubles and other ornaments on trees, bushes or even on your wreath.
Bring the festivities outside of your home this holiday season with ideas that are as simple as they are magical. We hope our tips have inspired you to enjoy outdoor Christmas decorating. Snowsuit up and get the whole family out to brighten up your street with ornaments and cheer!
From everyone here at JPS Furnace & Air Conditioning, we hope that you have a wonderful Christmas season and a very happy New Year!