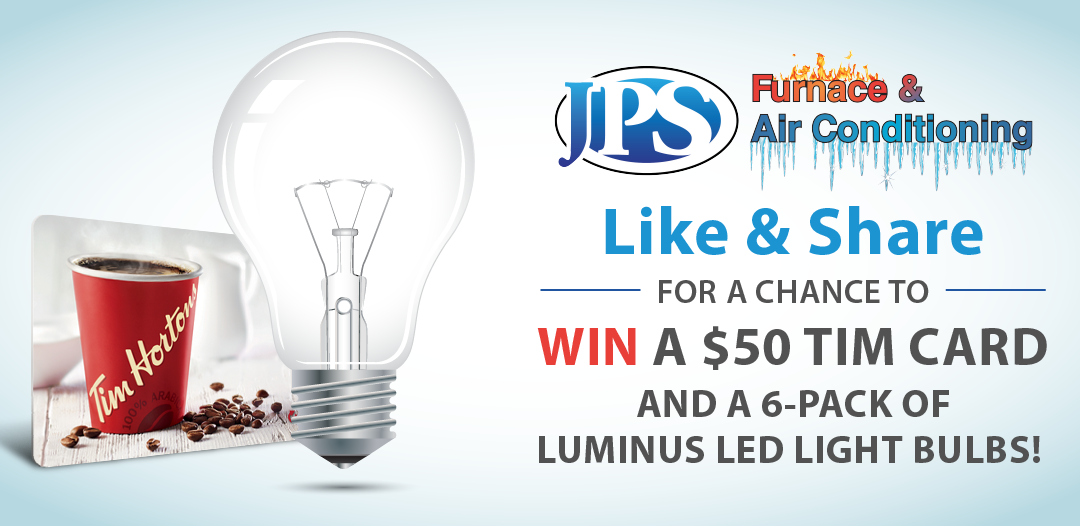 LIKE, SHARE & WIN with JPS Furnace & Air Conditioning!
Treat your home, then treat yourself! To encourage everyone in the Calgary and Chestermere area to increase their energy efficiency, we're giving away:
A 6-Pack of Luminus LED Light Bulbs!
And to treat yourself for replacing your old, inefficient bulbs with new LED ones, we're also throwing in a:
$50 Tim Horton's gift Card!
Here's how to enter—we like to keep things simple!
LIKE JPS Furnace & Air Conditioning's Facebook page.
SHARE this post to your own Facebook page.
It's that easy! Once you've completed both steps, you've officially entered for your chance to win.
Our LIKE and Share contest runs from July 5, 2017 until July 26th, 2017 and the WINNER will be chosen on July 27th. 
Why Light Bulbs?
Increasing energy efficiency should be a high priority for all homeowners; not only does it help lower monthly energy bills—increasing efficiency also helps the planet. Often, people think they have to make big changes in order to increase energy efficiency.
We want to show everyone in Calgary and Chestermere that small changes can have a significant impact! When you replace just 6 lights in your home, you'll immediately start saving money on energy bills as these bulbs require less watts to operate. Plus, they last longer! The average life span of an LED light bulb is between 25,000 and 40,000 hours, meaning you'll save on replacement bulbs (and help to reduce waste!).
When you LIKE JPS Furnace & Air Conditioning's Facebook page, you're not only entering to win our new contest—you'll be receiving helpful tips, news and information specific to homeowners in Calgary and Chestermere.
We're always trying to help you find new ways to keep your home efficient and we look forward to bringing you more fun contests and giveaways throughout the year.
JPS Furnace & Air Conditioning has been providing high-quality heating and cooling service in Calgary and Chestermere for over a decade. Our friendly, professional team is always ready to provide cooling service, air conditioning repair or anything else your home comfort systems may need.
Click here for complete contest rules and regulations.
Have any questions? Contact us here. We're more than happy to help!