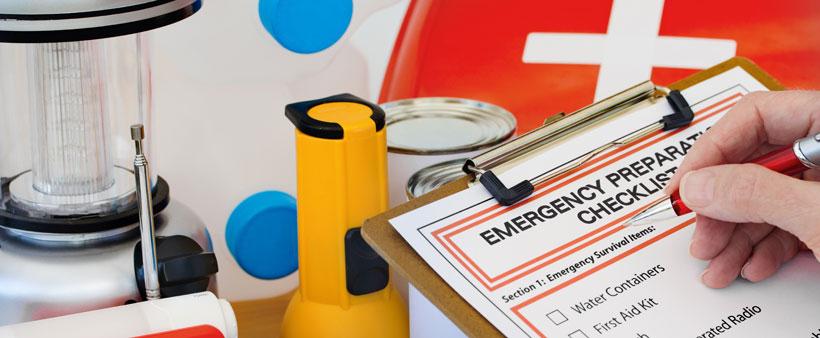 Prepare for Harsh Winter Alberta Storms with an Emergency Kit
Winters in Alberta can be harsh with freezing cold temperatures, snow, snow and more snow! It's not unusual for people to be snowed in or stranded at home without power for a few days. Take some time NOW to assemble a winter emergency kit so that you're not scrambling when a storm hits.
Basic Necessities for Emergency Kit:
Enough water for every member of the home for 72 hours—about 2 litres per person, per day. Remember to include extra water for any pets you may have.
Food that won't spoil and is easy to prepare. Energy bars, dried food and jerky are good options. Keep an extra bag of pet food on hand as well.
Well stocked first aid kit that includes bandages, gauze, sterilizing solution, compresses and any medication required by family members.
Battery-powered or hand crank radio, flashlight and extra batteries. Don't forget to include some candles and matches as well.
An extra set of warm clothes for every member of the family and extra blankets and pillows.
Board games, colouring books or other activities to keep busy during a power outage.
Prepare Your Home:
Ensure you have working carbon monoxide detectors and smoke alarms. Remember to never use a generator, grill or camp stove indoors during power outages.
Make sure everyone in the home knows how to shut off the main water valve to prevent pipes from bursting.
Schedule yearly maintenance on your heating system to ensure that it is up to the task of keeping you and your family warm during the cold Alberta winters.
Take some time now to prepare for the upcoming winter storms and make sure your emergency kit is ready when you need it!
If you're in the market for a new heating system,
JPS Furnace can help you save up to $1,800 on a new furnace that
includes a 12-year warranty.
Contact us today for more information!
JPS Furnace & Air Conditioning is a family business and our uncompromising commitment to our customers' satisfaction has been a foundation for our success and what sets us apart from our competitors.
Connect with us on Facebook, Twitter, and Instagram for air conditioning tips, tricks, and advice!
Proudly serving the Calgary, Chestermere, Airdrie and Cochrane areas.